CE-RO Online LTC Registration
Online LTC
Click the button below to purchase the Online Texas LTC class.
Purchase Now – $65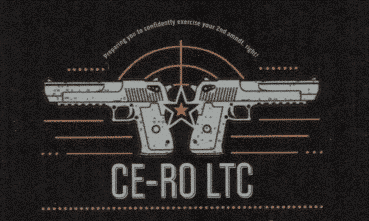 Official Texas DPS approved online License to Carry class

Get certified online

Instant access to the class after purchase

Take the class on your smartphone, tablet or computeStart and stop as many times as needed. 6 months provided to complete the class.
Proficiency Demonstration is required after the online LTC class. Proficiency Demonstration consists of range instruction and shooting qualification.
Login/Continue Class
About the Online LTC Class
It is now easier than ever to get your License to Carry a A Handgun (formerly known as Concealed Handgun License) in Texas! Just watch the videos online from anywhere and on any computer, smartphone or tablet. At only 4 hours long, this easy online Texas LTC class can be completed in no time. Watch as little or as much of the online LTC class at a time, progress is saved as you watch each video segment. Whether you are in Dallas, Houston, San Antonio, Austin or El Paso, the online LTC class can be taken from anywhere in Texas.
This Texas DPS approved online Texas License to Carry (LTC) class provides the mandated Texas Department of Public Safety classroom training for obtaining your Texas LTC. This online LTC class is 4 hours plus the written exam (multiple choice and true/false test).
To obtain your Texas LTC, the proficiency demonstration must be completed with an LTC instructor after the successful completion of the online class. 
About CE-RO LTC
We provide Texas License to Carry classes and beginners firearm/pistol training to get you ready for when you embark on your new endeavor of owning & shooting a firearm.
CE-RO LTC is a place where we specialize not only in teaching you the basics about handling a firearm but providing you a real-world perspective on what it means to legally carry a firearm for your family's and your protection.
We're not here to intimidate you with extremely high-speed training and show off everything we know about weapons and tactics, we are here to teach you and build your confidence in legally using your weapon.
We bring over 25 yrs of experience and provide you with a law enforcement viewpoint on how to properly handle a weapon and legally carry when you choose to exercise your 2nd amendment right to carry a weapon for self-defense.
Thank you for your support!!!
"As iron sharpens iron, so one man sharpens another!!
Prov. 27:17